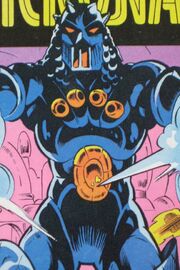 Evil leader of the rebellion on Homeworld against the Elitists. Arcturus Rann's former profesor, then known as Doctor karza.
"Once Homeworld's Chief Scientist and Overseer of the Body Banks, Karza has offered the Microverse immortality…for a price--total and complete subservience to his wishes! And he gets it!"
--Micronauts, Vol. 1, No. 1
Ad blocker interference detected!
Wikia is a free-to-use site that makes money from advertising. We have a modified experience for viewers using ad blockers

Wikia is not accessible if you've made further modifications. Remove the custom ad blocker rule(s) and the page will load as expected.