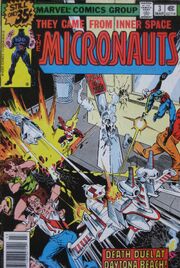 Death-Duel at Daytona Beach!
After the battle between the Micronauts in the HMS Endeavor and Prince Shaitan's battle cruisers, Steve Coffin's backyard is a wreck. At first, his father Ray Coffin is skeptical about his son's stories of warfare between spacesips, but then he discovers remains of aircraft and the tiny bodies of dead pilots. Bug has been left behind, but hopes to use one of the crashed wingfighters to catch up with his companions.
Meanwhile, Shaitan pursues the Micronauts to Daytona Beach, stirring up sightings of "UFOs" along the way. Biotron pilots the Endeavor, while Microtron and Mari Princess Mari man the thorium guns. Acroyear and Commander Rann use glider-pacs to go outside to fight.
Eventually, Shaitan is forced to warp away. The Micronauts, however, fear that once Baron Karza hears about this world, he will want to enslave it.
Ad blocker interference detected!
Wikia is a free-to-use site that makes money from advertising. We have a modified experience for viewers using ad blockers

Wikia is not accessible if you've made further modifications. Remove the custom ad blocker rule(s) and the page will load as expected.