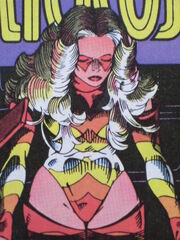 Princess Mari was an Elitist on Homeworld. She is Prince Argon's sister. She has also been known as Marionette since disguising her identity by posing as a roboid show-doll who would dance on strings manipulated by Microtron. She carries a lasersonic pistol--and she's a good shot with it!
"Princess Mari of Homeworld's Royal Family--she saw her parents and brother killed or captured in a coup d'etat, and is as fierce in her desire for revenge as she is in her hatred for [Baron Karza]."
Ad blocker interference detected!
Wikia is a free-to-use site that makes money from advertising. We have a modified experience for viewers using ad blockers

Wikia is not accessible if you've made further modifications. Remove the custom ad blocker rule(s) and the page will load as expected.