Mego launched the Microman-derived Micronauts line of toys in 1976. The initial line featured four 10cm figures, a villain and three heroes, two Large Robots, six small vehicles, a water toy and three extra large vehicles, as well as the Stratastation habitat.
Four of the small vehicles took their cue from the launch of Microman, and included figures in the box.
Large Robots
Edit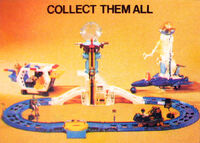 *(Time Traveller included)
Micronauts: Series 1 (1976)
Previous Series:
Next Series:
-
Series 2 (1977)
Ad blocker interference detected!
Wikia is a free-to-use site that makes money from advertising. We have a modified experience for viewers using ad blockers

Wikia is not accessible if you've made further modifications. Remove the custom ad blocker rule(s) and the page will load as expected.