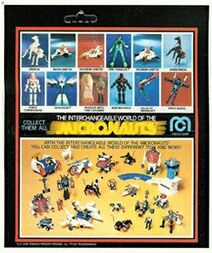 In the second series, Mego introduced the Magno Figures, based loosely on Kotetsu Jeeg, also by Takara. Jeeg was also the inspiration for the Magnemo Micromen.
The Acroyear family would expand with a Large Robot and new figure, while a trio of die-cast "Orbiters" would join the staggering Battle Cruiser in the vehicle department.
Magno Figures
Edit
Large Robots
Edit
Ad blocker interference detected!
Wikia is a free-to-use site that makes money from advertising. We have a modified experience for viewers using ad blockers

Wikia is not accessible if you've made further modifications. Remove the custom ad blocker rule(s) and the page will load as expected.