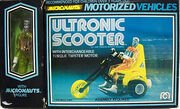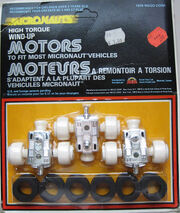 The Torque Twister Motor was a small box shaped wind-up motor with two rubber-tired wheels on the side, two male 5mm connectors one on the top and one on the front, and a white knob on the back for winding it up.
While early versions were exclusively silver, later versions were frequently white, depending on which toy they shipped with.
Motorized Vehicles
Edit
The Torque Twister Motor was initially shipped with a series of single occupant vehicles dubbed "Motorized Vehicles." These early vehicles came standard with a Micronauts Figure.
Later, vehicles such as the Solarion shipped with the motor, but dropped the "Motorized Vehicle" label on the box.
High Torque Wind-up Motors (carded release)
Edit
Grand Toys in Canada shipped a carded three-pack of the motors late in the Micronauts run. The Canadian version found its way into US stores, but while the label reads "Manufactured exclusively for Mego," it is unclear if Mego ever issued a US version of this product.